Seattle Outreach Ministry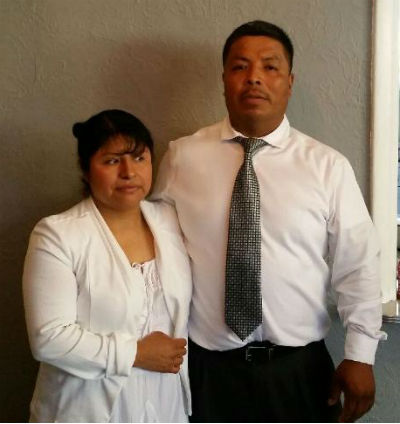 Ministers Nicolas
Directors of Outreach Ministry
Christ Gospel Church of Seattle's Outreach Ministry plan to provide help to members of the community in 2018, by taking up special offerings to give gifts of tents, blankets, clothing, hygiene packs, and meal gift cards this winter. In the spring and summer, we plan to reach out with hot meals. For the fall, we plan to distribute school supplies and provide clothes. And once again for the Holiday months we will provide Holiday Food Baskets and toys to those who notify us in advance of their needs.
Christ Gospel Church Seattle worked with CGC Tacoma with the 2017 Holiday Food Basket Giveaway that began in September and ended in December, Thank you LORD God for all who donated and participated. The LORD blessed the Outreach Ministry to feed 22 families for Thanksgiving 2017 and 3 families for Christmas. Thank you CGCNWCM Elder McGriff, Sister Consuelo Harris, CGC Seattle's Pastor Humbert, and CGC Tacoma Outreach Directors, Ministers McMillian for all of your participation..
In 2016, Christ Gospel Church of Tacoma/Seattle's Outreach Ministry was blessed to provide help to members of the community, by taking up special offerings. The church's donations allowed us to give gifts of tents, blankets, clothing, hygiene packs, and hot meals. We also gave out Holiday Food Baskets to nineteen families in Lakewood, Tacoma, and Spanaway. Praise God, CGC Tacoma/Seattle helped to get a homeless family off the streets, permanently! Thank you Pastor Humbert and Sister Consuelo Harris.for spearheading the Outreach 2016.
Please call the church in advance to let your Needs Request made know, in order to help the Outreach Ministry serve you better. The Outreach Ministry can be reached at 253-584-3904 or outreachtacoma@cgcnwcm.org. Please visit our Facebook page at Christ Gospel Church NWCM Tacoma-Seattle. Tune in to the Livestream Broadcast of Christ Gospel Churches International, Inc every Friday at 6:00 pm.
All Praise and Glory to the LORD Jesus Christ!
Holiday Food Basket Giveaway 2017